Master John (Tysoe)
Swordsmen Martial Arts' Chief Instructor. Over 55 years experience in several martial arts.
He has competed, trained and coached players at State, National and World levels
He has Level 3 National and International Instructor Certificates, is one of a small group of Westerners that hold international referee qualifications with the World Haidong Gumdo Federation.
Master John has Black belts in Haidong Gumdo, Taekwondo, Judo and Karate, with an aggregate total over 15 dan grades.
He has won 4 Gold, 1 Silver, and 2 Bronze in international competition.
Master John is also the Vice-President of the Australian Haidong Gumdo Association (Headquartered in Brisbane) and Queensland State President of the Australian HDGD Association.
Swordsmen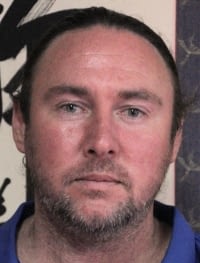 Master Luke
Master Luke Walsh is a national champion and multi-disciplinary gold medalist. He has been a student of Japanese and Korean martial arts for over 35 years.
Master Luke holds the rank of 7th degree black belt in the Eight Directional System, 5th Dan Haidong Gumdo, 1st Dan Kyokushin Karate, 1st Dan TaeKwonDo, 1st Dan Tuek Gong Moosool and Black Belt Silat.
Master Luke is thirteen time Australian Haidong Gumdo champion in cutting and patterns, two time Mulimpia Australia champion Open Weapons and Karate, thirteen time Power Breaking champion, and two time Queensland Taekwondo Power and Technical breaking champion.
He is also Port Stephen's best technical athlete, four times NZ Kyokushin Karate champion, and won two Gold and three Silver at the 2017 World Mulimpia championships.
Swordsmen
Sa Beom Nim Damon
Instructor Damon holds a 3rd dan in Haidong Gumdo, 1st dan in MFA Judo, and 1st dan in Kyokushin karate.
He has competed at all levels of competition from local to international. Instructor Damon trains students at various levels in both Haidong Gumdo and MFA Judo.
Swordsmen
Master Cheri
Master Cheri is Swordsmen Martial Arts' Senior Instructor has been involved in martial arts for over 30 years. She has competed successfully in the U.S.A. at State and National levels.
Master Cheri has also competed successfully at World Championship level in both Taekwondo and Haidong Gumdo. She taught both of these disciplines for over 10 years in the United States before moving to Australia. Master Cheri holds level 3 National and International instructor certificates and has a total of 14 Dan grades.
International competitions have resulted in 5 gold, 3 silver and 7 bronze medals. Her most recent competitions have been at the Chuncheon International Taekwondo Open with the Taekwondo Queensland team. She also competed at the World Hanmadang 2010 and 2017 in South Korea as a member of the Australian National Taekwondo Team earning a Bronze in Pairs Poomsae and a Bronze in Individual Poomsae. She competed in the Presidents Cup and Australian Open in 2019 earning 1 Gold and 1 Silver.
Master Cheri is a National Poomse Judge, Referee and Coach for Taekwondo Australia. Other certifications include Taekwondo Coach and Referee (U.S.), Certificate IV in Sport (Coaching), Certificate IV in Fitness, and certifications in Spinning, Pilates, Lifestyle and Weight Management, Aerobics Instructor, and Personal Trainer. Master Cheri also holds a Blue Card.
Swordsmen
Master Clint
Master Clint holds a 5th Dan in Haidong Gumdo, a 2nd Dan in MFA Archery, and a 1st Dan in Taekwondo. He has competed and medalled in both national and international competitions. He is a head-Instructor of MFA Archery having contributed many years to its development.
Swordsmen
Master John (Banham)
Master John Banham holds a 5th Dan in Haidong Gumdo, a 1st Dan in Karate, and a 1st Dan in MFA Archery.
He has trained Students at all levels of competition from local through State, National, and International levels. He has competed at all levels and is World Champion (2013) Haindong Gumdo, and also has Gold, Silver, and Bronze results in the 2013 World Championships.
Swordsmen
Master Simon
Master Simon Egan is a multi-disciplinary gold medalist in TaeKwonDo and Haidong Gumdo. He has competed Nationally and Internationally.
Swordsmen
Sa Beom Nim Jake
Jake Egan is one of our Taekwondo Instructors. Jake holds a 1st Dan in Taekwondo and a 2nd Dan in Haidong Gumdo.
Swordsmen